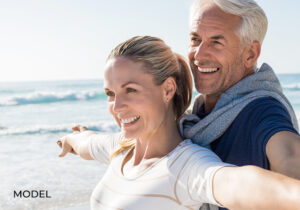 Dental implants are a long-lasting solution to missing or damaged teeth. This type of restorative dental care helps rebuild confidence, relieve discomfort, and improve overall well-being.
Patients typically have the option of dentures, partials, bridges, or dental implants to replace missing teeth. To make an informed decision, it helps to learn more about the benefits of dental implants and the implant placement procedures available to patients.
Get the facts about dental implants by reviewing these 10 reasons why you should consider them for your missing teeth.
1. Dental Implants Do Not Decay
Dental implants are called fixtures or posts, and they are surgically positioned in your jawbone under your gums to replace the root. They are typically made with titanium and coated with a substance that supports bone growth and prevents corrosion.
Zirconia is also used for implant posts. This material is free of metal and is a suitable alternative for people with a metal allergy or sensitivity.
Once the post is in place, an extender is attached to the fixture. This abutment supports the prosthesis that replaces your actual tooth. The restorative dentist can then attach crowns, dentures or bridges to the abutments placed by the oral surgeon. Porcelain, ceramics, resin, and metal are common materials used for dental prosthetics.
Combined, these materials are strong, decay-resistant, and useful for preventing cavities.
2. They Are Adaptable To Conventional Dentures
Implant Supported Overdenture treatment combines implants with dental bridges. Your surgeon installs the implants and specially designed connectors that attach to a bridge. This option requires fewer implants and has a shorter healing period than traditional dental implants. It is also a cost-effective solution for patients missing most or all their teeth.
3. Dental Implants Maintain Bone Levels
Unreplaced missing teeth may lead to permanent bone deterioration and loss. This is because the bone in your mouth requires the presence of a root and the stimulation of chewing to remain durable. Once a tooth is gone, the bone that supported it begins to weaken and deteriorate.
Since dentures and crowns only rest on the surface of your gums, they do not prevent this bone resorption. Dental implants on the other hand, replace the root of the tooth, help sustain bone strength and allow the necessary chewing activity for resilient jawbone durability.
4. Implant Care Is Simple
Dental implants do not require special cleaning or maintenance like removable dentures and bridges. Instead, you care for implants the same way you care for natural teeth. Brush at least twice a day, floss daily, and see a dentist at least twice a year for routine checkups.
Note that although implants are cavity-resistant, gum disease remains a potential concern. Therefore, it is essential that dental implant patients commit to good dental hygiene. It is also important to visit a dentist at the first sign of possible gum disease.
5. Dental Implants Let You Enjoy Your Meals
Eating with full upper dentures can be difficult, since these devices cover the roof of your mouth and reduce the taste of your foods. With dental implants, there is no need for the support of the center section of full dentures, and you can enjoy the complete flavor of your foods, making meals more satisfying.
6. They Can Help Improve Speech
One common complaint of patients with conventional dentures is slurred or unclear speech. For many, it is simply too difficult to speak clearly around these devices. But the prostheses attached to dental implants let you speak with clarity, with no embarrassing slippage or saliva ejected from the mouth.
7. You Can Eat a Wider Range of Foods With Dental Implants
Because they are implanted in your bone, dental implants function like real teeth. This lets you chew food that you may not otherwise be able to eat with dentures or bridges:
Popcorn
Peanut butter
Nuts
Gum
Sesame seeds
Apples
Chewy candies
Corn on the cob
Ribs
Other sticky, hard, or tough-to-chew foods
Once your surgical sites have healed completely and your implants have settled, you can enjoy a diet with lots of variety.
8. Dental Implants Are Long-Lasting
With good oral hygiene habits, regular dental care and biannual checkups, implants can last the patient's lifetime, but the prostheses may eventually need to be replaced. Their durability and longevity depend on the type of prosthesis, materials, placement area and use.
For example, porcelain crowns have a 10- to 15-year life expectancy. When replacing back teeth, they can wear out sooner due to heavier use. Crowns in the front of the mouth may last longer than 15 years with proper dental care.
9. Dental Implants Are Comfortable and Convenient
Conventional dental prosthetics like dentures and bridges are often uncomfortable and present several unwelcome issues:
Tender gums
Sore spots
Nightly removal and cleaning
Messy denture glues
Increased stress on adjacent teeth
Slippage while chewing
Poor fit as gums recede
With dental implants, these issues are resolved. They are comfortable and durable, provide adjacent tooth support, prevent tooth movement and do not require costly and time-consuming special cleaning.
10. Dental Implants Enhance Appearance
Dental implants are made to look and feel natural. Unlike dentures, you do not need to worry about sunken cheeks or the appearance of accelerated aging from jawbone deterioration. Dental implants can help you look your best.
Talk to an Oral Surgeon for More Facts About Dental Implants
If you are considering dental implants, schedule a consultation with an oral and facial surgeon in your area to learn how they can help you. Dr. Minto of Minto Oral & Maxillofacial Surgery is happy to serve patients in Baldwin County, Alabama and the surrounding areas.